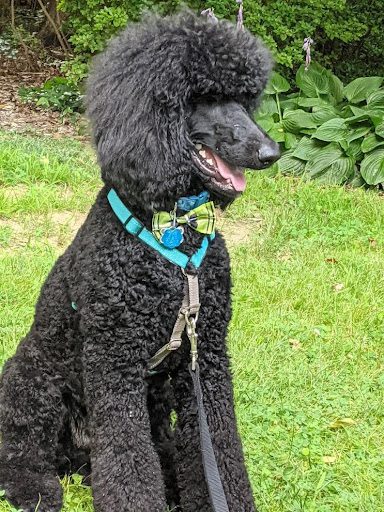 In March, my husband and I made a decision to welcome a new dog into our hearts and home.  We had lost our companion Ebony some years past. She was such an important part of our lives that it took us years before we were ready to welcome a new companion. Ebony was a knock out black standard poodle.  
So, it is no surprise that the 12-week-old puppy we welcomed into our home in March – Niko – is also a black standard poodle. 
If you have ever owned a poodle, you know they are remarkable dogs.  They are so intelligent one soon begins to think they can read your mind and understand most of what you say.  They do not shed hair and are hypoallergenic – meaning poodles do not bother people who have dog allergies. However, they require regular grooming and haircuts.  As we learned, there are many types of poodle cuts. What exactly should you look for when choosing a groomer? 
Just as I am happy when I find a salon stylist who begins by feeling my hair and thus has a good idea, which cut will accent my features; you want to find a groomer who will look at your dog and knows that certain styles will or will not make your dog stand out.  However, finding a groomer who has a good eye for what cut will look best could be a challenge.  
Fortunately, in our case all roads led to Dominique.  Niko's breeder recommended her and as I met people in the area who own a standard poodle, I discovered they also went to Dominique.  
Dominique gave Strawberry and Ozzie (Niko's sister and brother) a show cut for puppies.  Both won blue ribbons.  We were not interested in showing Niko although he is incredibly handsome with cascading, shiny, black hair that feels and looks like crushed velvet.  Dominique recommended keeping his "lion" head and then giving him a modified show scissor cut.  It feels good when you take your dog on a walk and people remark how handsome or beautiful he is.  I think Dominique is exceptionally talented and so I thought it would help people to know what makes a great groomer.  I asked her if I might interview her.  She said "yes"
Eleanor: On your Facebook, you have created a group called "a Groomer's Passion".  Why are you passionate about grooming and how did you get started?
Dominique: I have loved animals since I can remember. Growing up in Stonewall, Georgia I was always concerned about animals.  I got upset when I heard a dog was in an accident or hurt.  I decided when I grew up that I wanted to work with animals.  Initially I wanted to become a veterinarian.   My family didn't have the money to send me to college.  So, I worked at a local vet as a kennel attendant hoping I could eventually become a vet technician and help animals.  There was a groomer named Karen Curia who worked there.  She changed my life.  One day I decided to try to groom my mother's dog.  I studied photos and had watched Karen.  When I finished grooming mom's dog, Karen who had been watching me said, "You have to become a groomer.  You have a good eye for it."  She took me to a grooming expo in Atlanta and that was it.  When I walked in and saw more than 50 poodles of all sizes, cut in different styles, I knew Karen was right.  I should become a groomer.
Eleanor: What happened next?
Dominique: I moved to the District of Columbia area 13 years ago.  I knew I needed experience.  I worked at an animal shelter and during my free time, groomed the dogs.  The dogs appreciated getting rid of their neglected matted fur.  I took pictures of each one. Some months later, I applied for a job at a grooming shop. "The owner stated he wanted at least two years' experience.  I showed him the album I created from grooming the shelter dogs.  When he saw my work, he hired me on the spot.
Eleanor: Where does your creativity come from?
Dominique: My father.  My father loved to doodle and was good at drawing. I love art.  When I try a new style from a book or video, it is like sculpting – getting the angle right with the cut – turning two dimensions into three.
Eleanor: What do you look for when you get a new client?
Dominique: First, I need to know about the life style of the client and the dog.  Is there a lot of outdoor activity in the woods or near a pond.  Does the dog go into the water, run in tall grass and so forth.  If so, I would recommend a short cut because of matting. I also look at the physique of the dog.  If the dog has short legs, I might suggest a teddy bear cut to add some fluff to make the legs look fuller.  It balances the overall look of the dog. If the dog is prone to ear infections, I suggest short ears.  Same with the face.  If the dog frequently has infected eyes, I prefer to keep the face area clean and short to help minimize bacteria buildup.  Likewise, when I groom Malamutes and Collies, I like to trim up their back ends to help in maintaining the back area. 
Eleanor:  You gave Niko (Nikolaus) a modified puppy show cut.  When I took him to Old Town School For Training Dogs where they also provide dog grooming, they complimented me on his cut and said it looked like a hand scissor cut.
Dominique:  Show cuts should be hand scissor versus clipper cuts.  It takes much longer to do – about one and a half hours.  
Eleanor:  You prepared Niko's sister Strawberry and his brother Ozzie for a show.  They both won blue ribbons.  How did you know about show cuts?
Dominique:  I look at videos and books.  I am interested in learning as much as I can.
Eleanor:  Is there a particular breed of dog you prefer to groom?
Dominique:  Not really.  Although I do love poodles.  By the way, I also groom cats.
Eleanor:  How many poodles have you done over the years?
Dominique:  I have groomed teacup to standard poodles and I would guess about 2000.
Eleanor:  How often should a poodle be groomed?
Dominique:  Every 4 to 8 weeks.  I always tell my clients that if they want to maintain good looks, but find a full cut every 4 weeks too expensive, they should schedule a bath and trim between full cuts.   I can clean up the face, trim the tail, cut the nails, and brush out the dog.  Coming in between full cuts will keep them looking great.
Eleanor:  Are there particular types of grooming tools you prefer to use?
Dominique:  Yes.  I like Millers Forge – a premium manufacturer of pet grooming supplies designed with the safety of your pet in mind.  Although, I have purchased other top brand names, I still prefer Millers Forge.  It is important for me to be able to feel what I am doing when grooming a pet and Millers Forge does a great job.
Eleanor:  You must have a lot of patience when you are working.  Have you ever had problems with aggressive dogs?
Dominique: You have to know how to position a dog while you are grooming so the dog can't turn and quickly bite you.  Dogs tend to know when a dog lover is handling them.  I treat my dogs as if they were my own.
Eleanor:  Do you have a dog?
Dominique:  I have a Doberman Pincher named Bronson.  I hope to get a poodle as well soon.
Eleanor:  How do you groom cats?
Dominique:  Cats are not that difficult except when they are matted.  They tend to lie down flat like a pancake on the grooming table.  It might be their reaction to the presence of all the dogs waiting to be groomed.  
Eleanor:  Is there anything else in particular you would like to add?
Dominique:  Yes.  Grooming can be of benefit to your dog for health reasons.  I carefully feel all over the dog I am grooming and on more than one occasion, I have discovered tumors the owner didn't see.  In one case, it was toe cancer.  In another, I noticed pressure build up in the eyes.  
Eleanor:  Your love of animals and wanting to become a veterinarian seems to play an important role in your professional attitude toward your work.
Dominique:  Yes.  I love dogs and their pureness.  You want to protect them because they make you feel good.  They are therapeutic.  Sometimes I feel people don't appreciate them as much as they should.  They give back so much.
Eleanor:  "A Groomer's Passion" suites you well.  What recommendations do you have for clients looking for a good groomer?
Dominique: Look for good reviews.  When a groomer is singled out, it should indicate they really care. You want to make sure the groomer is not only in it for the money.  If you notice an uneven cut, or such things like hair left sticking out between the toes, they should be embarrassed and correct it. They should love their work and take great pride in the results.  
Contacts:
Dominique S. McKoy, Purrfect Grrooming, 7183 Lee Hwy Falls Church, VA 22046,   (703) 237-0595, Cell 202-422-5061, dominiquesmcKoy@gmail.com, FB: LadyBlack Dominique 
Eleanor E. Fink, Author, When to Say Goodbye – A Dog Story available on Amazon and local bookstores.  Eleanorfink.com
Tip for the day:  knots in a dog's coat are hard to brush out and can be painful for your dog.  If your dog's hair is matted, avoid pulling the dog's skin by trying to comb through the knots.   Instead, grab hold of your dog's hair below the knot and hold it firmly with one hand while using your other hand to pull the comb gently through.